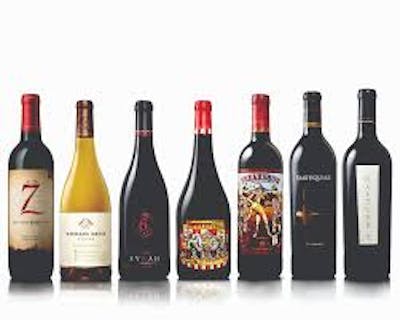 SKU: 210000007042
Bevan Ontogeny Propietary Red 2018
---
Unavailable
We're sorry, but this product is not currently available.
---
Michael David Winery Tasting Event August 12th - 2nd Seating (7:00PM to 8:30PM)
Location: Orange store
This event ticket provides you with 5 samples of wine from the Michael David Winery. The wines featured are the Freakshow Cabernet, Earthquake Zinfandel, Petite Petit Petite Sirah, 6th Sense Syrah and Rapture Cabernet.
Freakshow Cabernet - Freakshow Cabernet spotlights the power and finesse embraced by Michael David's Strongman! Aromas of cranberry, dark chocolate, vanilla and exotic spice. Larger-than-life, medium in body, and boasts bold flavors of raspberry, cocoa nib and pepper.
Earthquake Zinfandel - This rich, burly Zin is off the charts in concentration and intensity! Opening with black cherry, dark chocolate and tobacco on the nose, this full-bodied Zinfandel exudes flavors of red berry, plum, cacao and cola leading to a spice laced finish that lingers until the next quake.
Petite Petit Petite Sirah - Petite Petit is a large, weighty, knock-your-socks-off type of wine! Aromas of dark fruit, raspberry and fig. Layered with rich flavors of black cherry, cola and light oak on the palate. Dark, full bodied and deeply satisfying.
6th Sense Syrah - Surrounded by mysterious shadows of the 6th Sense, this velvety Syrah opens with aromas of ripe blackberry, boysenberry and fig laced with dark chocolate and allspice. Full bodied with flavors of black raspberry, coffee bean and tobacco are layered throughout the lingering finish.
Rapture Cabernet - Their most select Cabernet Sauvignon offering, Rapture opens with aromas of ripe black fruit, toasted coconut and cigar smoke on the nose. Refined supple tannins, rich flavors of fresh baked cherry cobbler, dark chocolate truffle and roasted hazelnut round out this full-bodied wine.
The 2018 Ontogeny should be up there with the 2017 and has lots of cassis and currant fruits as well as plenty of graphite, tapenade, salted chocolate, and leafy herbs. It's a rich, full-bodied, deep, sexy beasty.
The 2018 Ontogeny is fabulous. Once again, Russell Bevan opted to serve his entry-level wine in the middle of the tasting. If anything, that just shows how compelling the Ontogeny bottling is. Crushed raspberry, mint, blood orange and floral notes confer freshness and energy. Don't miss it.