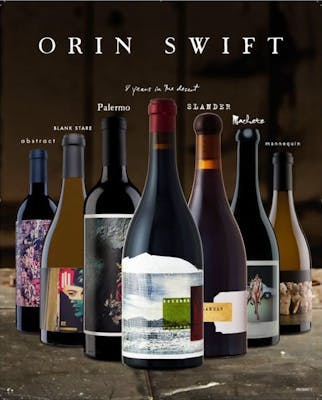 SKU: 210000007801
OC Wine Mart Orin Swift Live Tasting - Thursday Nov. 11th - 1st Seating @5PM
---
---
Orin Swift Tasting Event November 11th - 1st Seating @ 5PM
Location: Orange store
This event ticket provides you with 5 samples of wine from the Orin Swift Winery. The wines featured are the Slander Pinot Noir, Abstract Red blend, 8 Years in the Desert Red blend, Palermo Cabernet and Papillon Cabernet.
Slander Pinot Noir - Mouthwatering nose of bright strawberry and Rainier cherry with shades of chocolate, passion fruit and guava. The palate is refined, incredibly balanced and energetic; cranberry, sweet cherry pie, sour plum, black mission fig, graham cracker and chocolate covered almond.
Abstract Red Blend - Aromas of blueberry, plum, ripe raspberry, cherry and enchanting musk. On entry, the wine is seamless and enveloping with Black plum, sweet cassis and blueberry compote. Textured and long on the finish.
8 Years in the Desert Red Blend - Evolving aromatics with black and white pepper, then a ripe fruit core of brambly raspberry and sweet persimmon, finishing with savory notes of allspice, clove and fig leaf. Boisterous yet elegant on entry, plush layers with distinctive strawberry preserves, blackberry and raspberry pie topped with fresh crème.
Palermo Cabernet - Aromas of ripe cassis, sunburst raspberry, graphite and chaparral surrounded by a balanced frame of new oak. On the palate you get cassis, red licorice, fresh fennel and mixed berry compote.
Papillon Cabernet - Aromatically, opens with powerful notes of blackberry, kirsch, coastal sagebrush. Palate reveals a more elegant side of the wine: black plum, blackcurrant and toffee. Polished, balanced and the wine finishes with ripe but firm tannins.