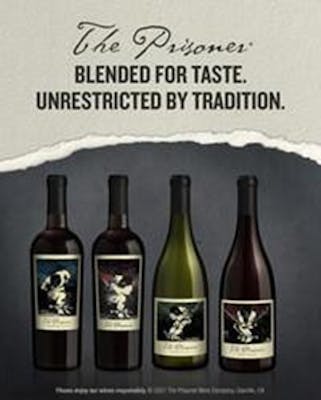 SKU: 210000007799
OC Wine Mart Prisoner Live Tasting Thursday Nov. 4th 1st Seating
---
---
Prisoner Tasting Event November 4th - 1st Seating @ 5PM
Location: Yorba Linda store
This event ticket provides you with 5 samples of wine from the Prisoner Wine Company. The wines featured are the Prisoner Red, Prisoner Pinot Noir, Prisoner Cabernet, Saldo Zinfandel and Saldo Red.
Prisoner Pinot Noir - Aromas of strawberry jam, cinnamon spice, cherry, and dried herbs. On the palate are dark cherry, strawberry and savory notes along with supple tannins. The wine has a nice elegance to it and a silky, lengthy mouthfeel.
Prisoner Red Blend - Zinfandel with the unlikely mix of Cabernet Sauvignon, Petite Sirah, Syrah, and Charbono. Features enticing aromas of Bing cherry, dark chocolate, clove, and roasted fig. Persistent flavors of ripe raspberry, boysenberry, pomegranate, and vanilla linger harmoniously, for a smooth and luscious finish.
Prisoner Cabernet - Aromas of black cherry and ripe plum are layered with vanilla and baking spice. Concentrated dark fruit flavors culminate in a lush, full mouthfeel and a lengthy finish.
Saldo Red - A blend of Petite Sirah, Syrah, Cabernet Sauvignon and Zinfandel, this wine is approachable and serious, bold and memorable. On the palate, it offers notes of dried black cherries and baking spices, with plenty of density and body.
Saldo Zinfandel - Dark ruby color with bold aromas of black licorice, black pepper, cherry, and baking spice. The entry is rich, full, and scintillating. The palate is mouthwatering and smooth with a hint of chocolate. The finish is voluptuous with soft, velvety tannins.