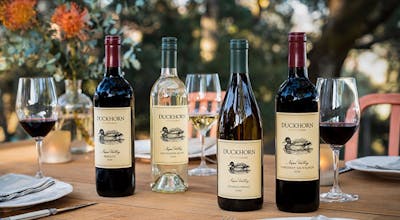 SKU: 210000007794
Duckhorn Tasting - Thursday Oct. 14th - 1st Seating 5pm
---
Unavailable
We're sorry, but this product is not currently available.
---
Duckhorn Tasting Event October 14th - 1st Seating (Come anytime between 5pm and 6pm to start)
Location: Orange store
This event ticket provides you with 5 samples of wine from the Duckhorn Wine Company. The wines featured are the Duckhorn Chardonnay, Goldeneye Pinot Noir, Paraduxx Red, Duckhorn Merlot and Cabernet.
Duckhorn Chardonnay - An alluring wine with aromas of yellow peach, lemon cream, pear and mango, along with notes of brioche and baking spice. The luxurious peach and pear notes are echoed on the silky palate, with graceful underlying acidity carrying the wine to a long resonant finish.
Goldeneye Pinot Noir - A fine-grained red, with graphite accents to the dried red fruit and berry flavors. Savory midpalate, with a focused finish that's filled with forest floor notes.
Paraduxx Red Blend - A Deep, dark and luxurious wine. Alluring aromas of blackberry, black cherry, blueberry, cocoa powder and spice. The voluptuous dark berry notes with supple tannins and sophisticated layers of anise, vanilla, sweet tobacco leaf, and black pepper, carry the wine to a juicy dark berry finish.
Duckhorn Merlot - Tempting aromas of ripe cherry and black raspberry with dusty tannins and supple texture, this a lush and expansive expression of Napa Valley Merlot. Luxurious flavors of black plum, rhubarb crumble and chocolate-covered raspberry and a long, vibrant finish.
Duckhorn Cabernet - A stunning expression of Napa Valley Cabernet, with alluring aromas of black fig, black raspberry, and chocolate, as well as notes of spice. Flavors of elderberry, plum, blueberry, red licorice, and violet glide across silky tannins, bright acidity contributing to a long, focused finish.