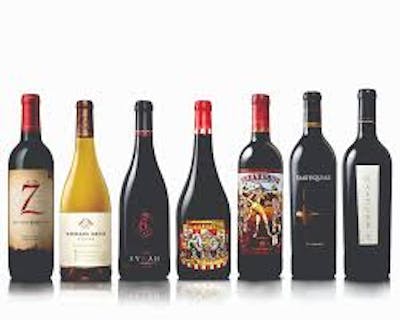 SKU: 210000007041
OC Wine Mart Michael David Tasting: March 31st - Orange
---
---
Michael David Winery Tasting Event March 31st - One Seating @ 6PM. Tasting session will go from 6-8PM.
Cost: $25 plus tax & 10% gratuity for our staff (10% Discount for Wine Club Members)
Location: Orange store
This event ticket provides you with 6 samples of wine from the Michael David Winery. The wines featured are the Earthquake Zinfandel, Freakshow Red, Earthquake Cabernet, Ink Blot Cab Franc and Petite Sirah, and Rapture Cabernet.
Earthquake Zinfandel - This is a luxurious deeply flavorful wine that is drenched in blackberry, blueberry and dark chocolate flavors and wrapped in soft tannins for a smooth mouthfeel.""
Freakshow Red - Aromas of raspberry, violet, spice and butterscotch candies. Full bodied but smooth and polished, flavors of black cherry, coffee and blueberry are interwoven with cinnamon and wood smoke, smooth and lasting finish.
Earthquake Cabernet - Opens with ripe black fruit and cinnamon on the nose. Full-bodied in texture with supple tannins, this wine is bursting with flavors of juicy blackberries, toasted marshmallow, and chocolate mocha.
Inkblot Petite Sirah - Overflows with blackberry, maple and floral aromas leading to a mouth filling effect and richness on the palate. Flavors of ripe red plum, molasses and dark chocolate carry this wine to a long, spice-laden finish.
Inkblot Cab Franc - Dark, decadent and alluring, Inkblot Cabernet Franc exudes aromas of plush black cherry, red plum, baking spices and coconut on the nose. Heavy on the mouth with smooth, polished tannins, unique flavors of strawberry jam, dark chocolate truffle and peppery spice lead to a layered, ample finish.
Rapture Cabernet - Tempting layers of juicy summer berries, black currant and molasses on the nose. Full bodied, complex flavors of fig, blackberry jam, dark chocolate and peppery spice and a remarkably long finish.