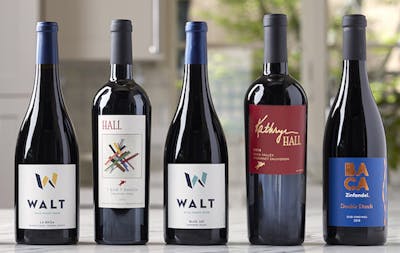 SKU: 210000007039
OC Wine Mart Hall Tasting July 15th - 2nd Seating 7PM
---
---
Hall and Walt Winery Tasting Event July 15th - 2nd Seating (7:00PM to 8:30PM)
Location: Orange store
This event ticket provides you with 5 samples of wine from Hall and Walt Wineries. The wines featured are the Sauvignon Blanc, Zinfandel, Pinot Noir, Cabernet and 1 oz of the Katherine Hall Cabernet Sauvignon.
Hall Sauvignon Blanc - Bursting with aromas of citrus blossom, lemon zest and fresh cut pineapple. Crisp acidity on the palate with notes of orange peel and minerality. Fresh flavors through the lengthy finish.
Walt Las Brisas Pinot Noir - Vibrant ruby red color, the wine is earthy, with notes of forest floor, ripe red fruit, raspberry pie, red cherry. Notes of barrel toast linger on the palate. The texture is rich, flavorful, and plush, with beautiful soft tannin on the finish.
Hall Cabernet - Effusive aromas of blackberry, black cherry, earth and warm toasty oak notes. The palate is dense and richly concentrated with fine grained tannin and good length. Flavors of dark chocolate, dark berry compote, and hints of thyme and leather.
Baca Double Dutch Dusi Zinfandel - Flavors of black cherry, cassis, licorice, and prairie grasses interplay over a smooth and velvety palate. A vinous grip of tannin on the finish contrasts nicely with the fruit and culminates in a finely balanced and elegant finish.
Kathryn Hall Cabernet - Deep, dark ruby in color and elegantly balanced with layered aromas of concentrated blackberry, freshly turned earth, and a hint of warm, spicy oak. The palate is fruit-forward with underlying notes of rich cocoa and leather. Layers of black fruit, nutmeg, cassis and brooding earthy notes are abundant. Supple, seamless tannin abounds, and the wine finishes with an incredible dark fruit