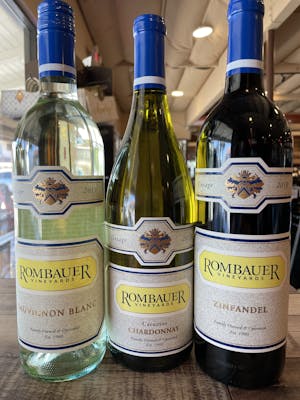 SKU: 210000006192
OC Wine Mart Rombauer Virtual Tasting Set
---
---
Set of 3 Full Bottles for Our Rombauer Virtual Tasting:
Rombauer Sauvignon Blanc:
Pale yellow with a touch of a green hue. Bursting with lively flavors of pink grapefruit, lime, and honeyed apricot with a warm note of vanilla on the finish. The wine is fresh and lively on the palate, allowing the lime to shine while the bright acidity makes for a mouthwatering finish that keeps you coming back for more.
Rombauer Chardonnay:
Pale light yellow with a green hue. Aromas of ripe peach, honeydew, and lemon rind intertwine seamlessly with vanilla and spice. The aromas are followed by flavors of lychee and yellow peach which meld perfectly with the cream texture, vanilla and slight butter. The finish builds with more peach and spice, while the acidity maintains the freshness and structure. The wine will continue to gain weight and depth over the next 12 months, revealing additional notes of nectarine, butter and spice.
Rombauer Zinfandel:
On the nose, concentrated aromas of ripe blackberry and boysenberry meld with black tea, vanilla and spice. Lush flavors of fig, blackberry jam, licorice and vanilla flood the palate, followed by touches of dark chocolate and white pepper in the background. Subtle and round tannins and great length make for a fresh and enticing finish.