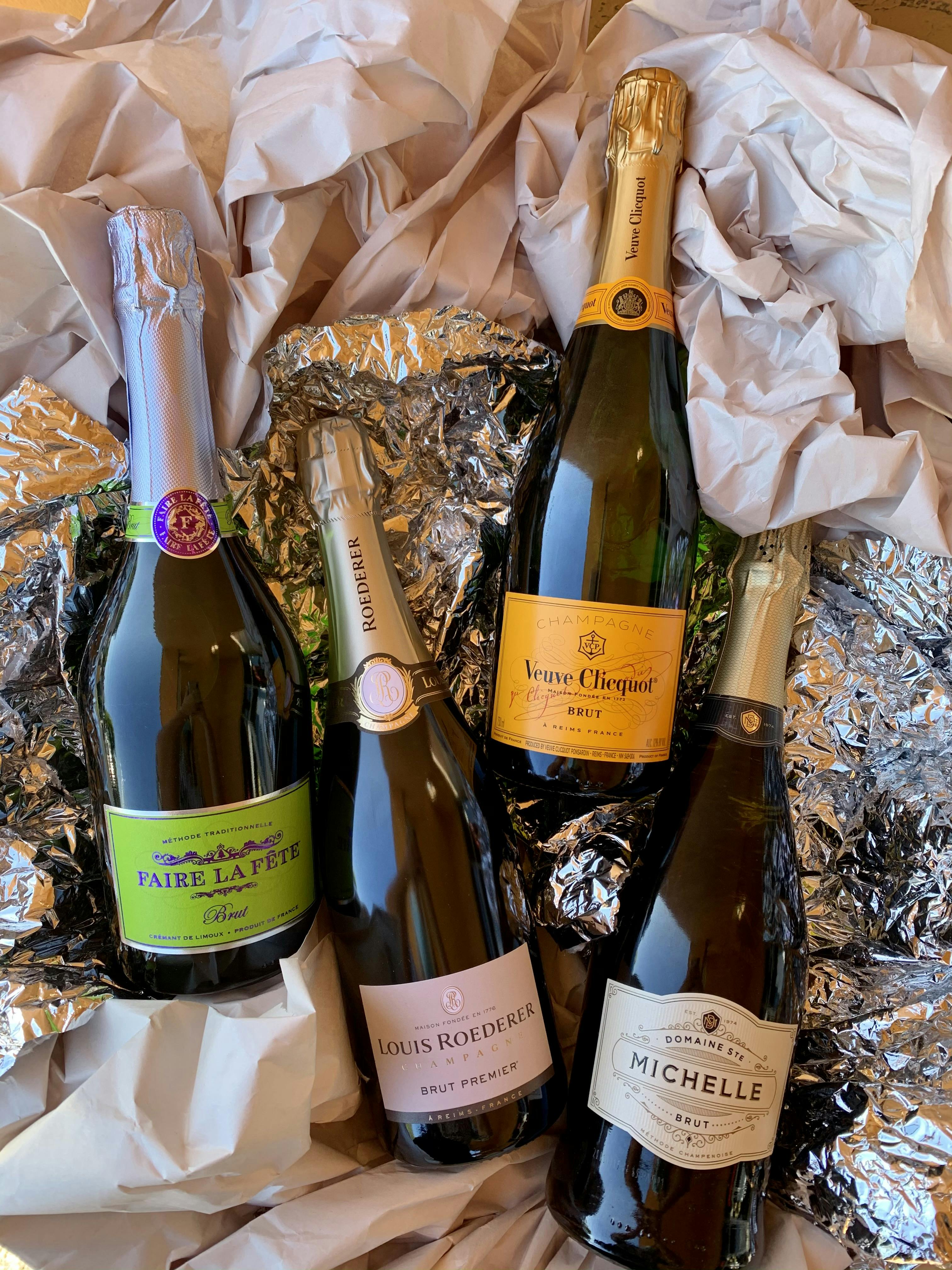 SKU: 210000006494
OC Wine Mart Champagne Tasting Set
---
$150.00
Save $10.00 (6%)
$140.00
---
A collection of Champagne and Sparkling Wine for our Virtual Tasting on 12/30. It would also make a lovely gift set for any Bubbly-Lover! This set of 4 contains:
1) Veuve Clicquot Yellow Label -This wine is the signature of Veuve Clicquot's quality and style, recreated every year thanks to our priceless collection of reserve wines. Its brilliant yellow label reflects the champagne's bright personality and impeccable winemaking credentials. Veuve Clicquot Yellow Label manages to reconcile two opposing factors - strength and silkiness - and to hold them in perfect balance with aromatic intensity and a lot of freshness. This consistent power to please makes it ideal as an aperitif, and perfect as the Champagne to enjoy with a meal.
2) Louis Roederer Brut Premier - Our "Baby Cristal". Brut Premier is the House's flagship multi-vintage Champagne and its most popular and best-selling wine. Brut Premier characterizes the timeless style with the combination of fresh, youthful fruitiness and the vinous qualities of a fully matured wine. It is a structured wine with a lively attack and a smooth palate.
3) Faire le Fete - Light golden in color with vibrant aromas and flavors of baked apple, white cherry and lemon meringue. From gourmet caviar and oysters to popcorn, Faire la Fête is a versatile wine that pairs well with a range of dishes and cuisines. Try with an Asian pear salad, spicy tuna rolls, or pork chops and applesauce.
4) Michelle Brut - Not too dry or sweet, Michelle Brut is a palate-pleasing sparkling wine that delivers aromas and flavors of apples and citrus with a light, toasty finish. Broad and expressive in its pear and lemon aromas, this steal of a sparkler has wonderful cut. It's driven by clean, chalky minerality and a modest phenolic bite that will make it sing with a meal.