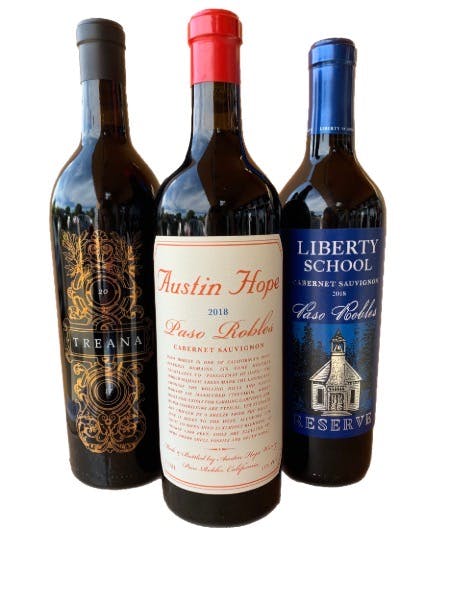 SKU: 210000006486
Austin Hope Tasting Set Of 3
---
$125.00
Save $15.00 (12%)
$110.00
---
Austin Hope Cabernet - #7 Wine Enthusiast Top 100 of 2020
Deep ruby in color, the 2018 Austin Hope Cabernet Sauvignon expresses aromas of fresh black currants and cherries accompanied by subtle smoky notes and dried spices. On the palate, this lavish powerful wine is layered with juicy blackberry, ripe cherry, vanilla bean and brown butter. It's full-bodied and rich, balanced by a touch of bright acidity and firm polished tannins.
Treana Red
Our flagship, Treana Red blend has a storied history of being a robust wine with grace and finesse. This wine possesses a brooding richness in color and aromatics. On the nose, cassis, dark ripe fruit, and clove are met with warm vanilla. As the aromas continue to the pallet, flavors of baked berry cobbler, freshly grated cinnamon, toasted caramel and a touch of zesty acidity balances the richness to create an experience unique to Treana Red.
Liberty School Reserve Cabernet Sauvignon
This wine possesses a saturated garnet color that reflex the richness of the wine overall. On the nose, fresh vanilla bean, black currants and a dash of smoke welcome you before each sip. Flavors of dark fruit, ripe cherry are subtly met by herbaceous notes and white pepper. Beautiful layered tannins add weight and finesse to the finish.